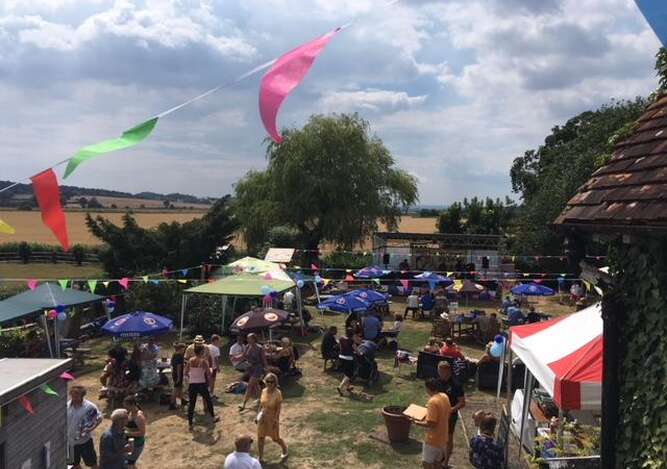 Beer & Music Festival
BEER &MUSIC FESTIVAL 2019 - SATURDAY 20TH AND SUNDAY 21ST JULY
The countdown is on! We've decided to hold this year's festival in memory of Pete Hacking, a well known and much missed pub regular who sadly lost his battle with cancer this year. We will be working our socks off to raise as much money as we can for Cancer Research UK and this year Team Ben Hammond, which raises money and awareness to support annual heart screenings for young people. To find out more, visit www.teambenhammond.co.uk Our raffle has some fabulous prizes and tickets can be purchased at the pub now and throughout the festival weekend. Beer &Music Festival Raffle 2019
Beer
If you enjoy a pint of real ale then our outside bar is the place to head to during the festival. Our local brewery, The Rother Valley Brewing Company, will once again be supplying the celebratory festival ale, the star of the show amongst 11 other guest ales and this year it is the perfect tribute to Pete, it's called Cracking Hackings ABV 4.1%. We're sure it would meet with his approvalCracking Hackings
Music - confirmed so far and in no particular order...... Why Not, Freak Flag, Ramblin Rags, Smokin Mojos, Criminal Records, Meraki, The Geoff Everett Band and No Refunds. Plus, we're thrilled to welcome back Sandhurst Primary School Choir who will be performing on the Sunday. See full programme here Saturday Music Sunday Music
Food - Festival Food Station in garden - Saturday 12pm - 9pm, Sunday 12pm - 8pm. Restaurant - closed Saturday, OPEN Sunday from 12noon-5pm serving our Sunday Menu.
FESTIVAL 2018!
The sun shone, the bands played and the ales flowed during our recent Beer &Festival (21st &22nd July). 15 bands perfomed over the 2 days, all different but all absolutely fantastic, with a wonderful performance by the Sandhurst Primary School Choir on the Sunday. 13 real ales and 3 craft ciders were available from the beer bar, with a spin the wheel for those that couldn't make up their mind as to which one to choose! Our chefs did themselves proud in scorching temperatures to produce tasty festival food whilst Steph from Medway Party Faces was kept incredibly busy applying henna tattoos and beautiful face paint designs.
During the weekend our raffle helped us to raise an impressive £1365 which will be divided equally between Cancer Research UK and The British Heart Foundation. The first prize of a flight in a Boeing Steerman WW2 biplane, very generously donated by the Nick Davidson Memorial Flying Scholarship Trust, provided a wow factor to the raffle. This is the third year in a row that they have offered a pleasure flight, but the first in a biplane! Added to this, vouchers from us, Rotherrides, The Walled Nursery, Bodiam Boating Station, Gardenscape and Huntleys Butchers plus a big bottle of bubbly from Ellis Wines helped the tickets fly! With a 10p donation from every pint sold from the garden bar too, plus a generous donation from Steph of Medway Party Faces we were able to raise this fabulous amount. Thank you to every one who came along and bought a ticket. Here's to festival 2019!